Licensed Vet Health Check

2-yr. Genetic Health Guarantee

30 Days of Pet Insurance

Life-Time Breeder Support

Puppy ID Microchipped

Puppy's First Collar

Peace of Mind – Parents DNA Tested
Video Updates of Growing Puppy

Up To Date On Vaccinations

Regularly Dewormed

Access to All Medical Records Via Breeder Cloud
Upcoming Goldendoodle Puppy Litter Information
GOLDENDOODLE PUPPIES CAN BE RESERVED AT 4 WEEKS OLD
We are excited to share our Goldendoodle puppies for sale on this page. We like to wait till the Golden Retrievers and Mini Goldendoodles are around 4 weeks until we take individual photos of them. If you do not see any Goldendoodle puppies for sale on this page check out our current litter page to see Goldendoodles that will be available soon. As well, you can learn more about the doggy parents on our current litter page.
VISITING THE NURSERY
We thank you in advance for your understanding when we ask that you wait until the puppies are 4 week old to visit. After 4 weeks of age you are welcome to come visit and check out our facility by appointment. We take great care of our pups, and we wish to keep them as healthy as we can. We ask that only serious customers come to visit them to reduce the risk of someone unintentionally bringing in a harmful disease (like parvo, giardia, etc.) into the nursery and risking the health of our puppies. Please note that it places stress on the mother when strangers are around her babies and handling them.
We look forward to meeting you and please let us know if you have any questions on the reservation process.
GOLDENDOODLE ADOPTION PROCESS
So you are starting to get serious about adopting your next puppy. Check out our adoption process and learn what the next step is in your journey.
We wish to keep our the families updated as their puppy grows. We do this with video updates that we post on our Youtube channel. Check Out Our Youtube Channel For More Videos
WHAT'S A GOLDENDOODLE?
Looking for Goldendoodle puppies for sale? What is a Goldendoodle? Have you done your research on what puppy is best for you? Goldendoodles are a designer breed that comes from crossing a Golden Retriever to a Poodle. Goldendoodle size can range depending on the size variety of the Poodle parent.
SIZE OF THE GOLDENDOODLE
Large Goldendoodles typically stand 20 to 24 inches and 50 to 80 lb.
Medium Goldendoodles typically stand 17 to 20 inches and 40 to 50 lb.
Mini Goldendoodles typically stand up to 20 inches and 15 to 35 lb.
DO GOLDENDOODLES SHED?
Goldendoodles will shed but not as much as other dogs. The higher percentage of poodle the less likely the coat will shed. The Goldendoodle will shed less than their Golden Retriever parent making them a wonderful option for an inside dog. Something to remember, though, is all dogs have dander (dead skin cells), saliva, and urine, where allergens exist, so there is no guarantee a Goldendoodle won't set off an allergic reaction if you suffer from extreme pet allergies.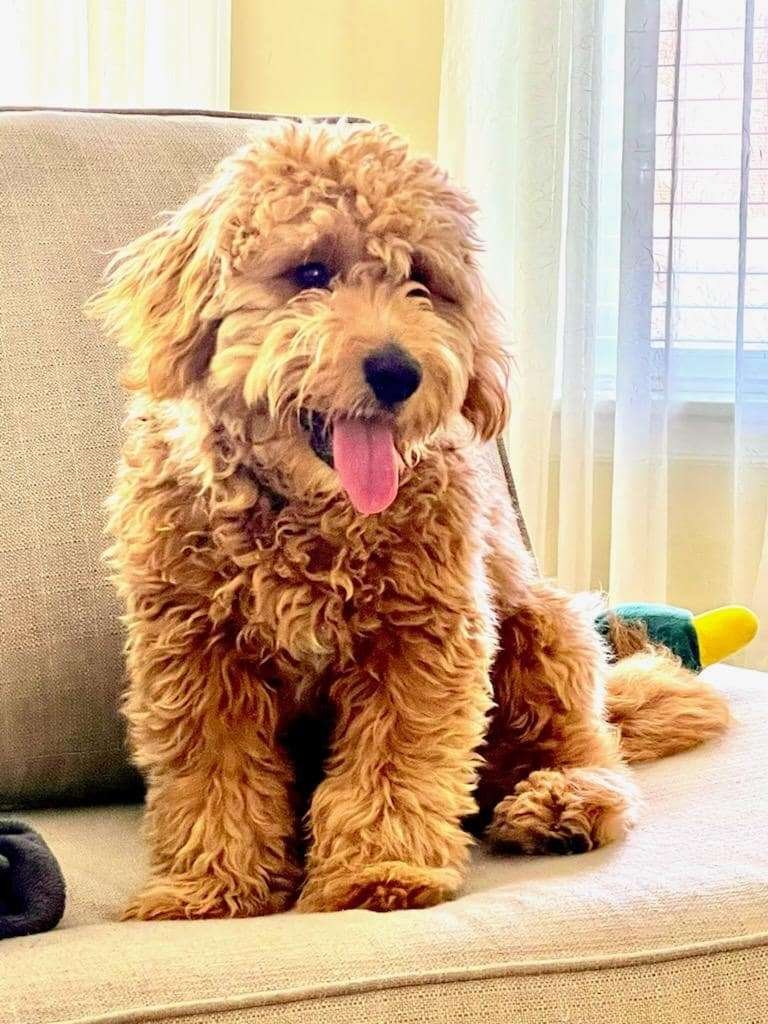 · Be Notified of Next Available Puppies ·