2-year Genetic Health Guarantee
Golden Crest Retrievers provides a 2-year genetic health guarantee on our Golden Retriever and Goldendoodle puppies. This will cover the new puppy's family on any genetic life-threatening diseases that they may encounter in the first 2 years of the puppy's life. For our protection as well as our puppy customers we require the puppy to have a puppy wellness exam from a licensed Vet within the first 72 hours of leaving the Golden Crest Retrievers nursery for the 2-year genetic health guarantee to be honored.
Importance of Healthy DNA Tested Parents
We take great pride in providing healthy parents in our breeding program. Our adult dogs are DNA genetic health tested so we know exactly what genetics we are breeding into our puppies. This step alone gives us confidence in the health of our puppies.
The health of our puppies is our focus. We closely monitor our puppies from the day of birth to the time they leave the nursery to insure the health and well-being of the puppies.
At Golden Crest Retrievers we believe in sharing all the medical information on your puppy from day 1. The Breeder Cloud Pro helps us to conveniently post all the deworming dates, vaccines, microchip numbers, and vet information. The Pet Portal of the Breeder Cloud allows you access to medical information whenever you need it. This makes it easy to forward needed information to your Vet.
Tips on Keeping You Puppy Healthy
Annual Vet Visits
A yearly wellness exam gives an open door to your veterinarian to perform an assortment of wellbeing screens that can prompt early location of infections and detect in advance indications of serious disease.
Coupled with yearly dental arrangements may likewise be prescribed to eliminate plaque and tartar development. Veterinarians will help set an ideal diet plan and screen the weight and medical issues of your pet helping to prevent overeating and catching illnesses before they spiral out of control.
Preventative Medications
Taking preventative medication remains closely connected with annual veterinarian exams. Safeguard prescriptions can keep your pet liberated from undesirable medical problems, like heartworm, flea-related diseases, and tick-borne illnesses.
Likewise, consistently cleaning your pet's teeth and giving him dental bites assist with forestalling periodontal infection, which can prompt more serious medical issues.
Like different kinds of insurance, pet insurance works by moving the monetary gamble of paying for your pet's clinical costs in return for paying an installment. Pet insurance allows you to avoid the gamble of unforeseen and unexpected clinical costs that could be pricey.
Furthermore, when you purchase your Golden Retriever or Goldendoodle puppy from Golden Crest Retrievers & Doodles you will receive 30 days of coverage from Trupanion. This is at no cost to you and can prove to be very valuable for unanticipated medical expenses.
Grooming
Having a regular grooming schedule is important. This includes keeping your pet's nails managed, brushing two or three times each week, and giving him frequent showers.
Likewise, grooming is an effective method for watching out for changes in your pet's coat and skin, such as dandruff, bare spots, or dry skin. What's more, it's an optimal opportunity to check for irregularities and bumps that might be a cause to worry.
Socialization
According to the American Animal Hospital Association, "Early socialization [in dogs] and appropriate exposure to various people and situations at a young age decreases the odds of antisocial or fearfully aggressive behaviors as an adult."
Starting at a few weeks of age to 18 weeks is the best time in the puppy's life to improve their socialization skills. So be certain your puppy is introduced to several different individuals, cats, and other dogs in their early months as well as all through their life.
Puppy Proof Home
Prepare your home for your Golden Retriever or Goldendoodle puppy by putting toxic substances out of reach. Be aware of items in your home that may be available to your new puppy and take the necessary measures to puppy-proof your home.
Also, remember to remove hanging cords or wires that your puppy can chew to avoid electric shock. Put up poisonous chemicals that could be ingested.
Remember, to your puppy everything is a toy even items that could be life-threatening to your new Goldendoodle or Golden Retriever puppy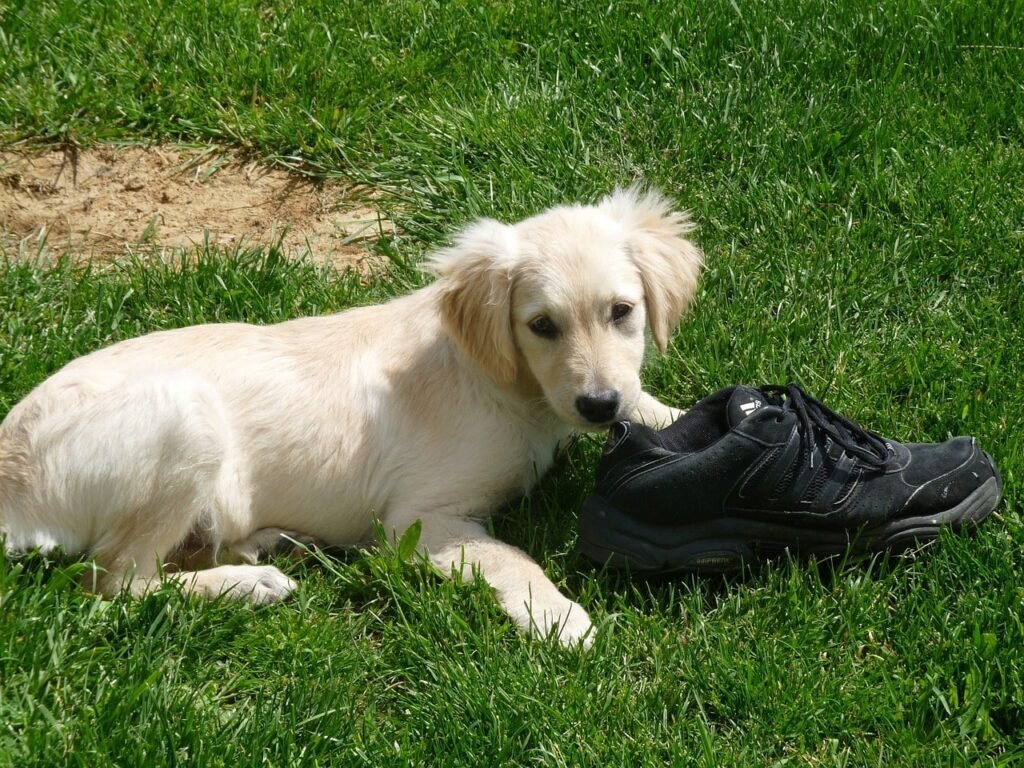 Spay/Neuter Your Dog
There are many health and behavioral advantages to spaying/neutering your dog. The advantages include decreased risk of cancer, decreased chance of aggressive behavior, and possibly increases the dog's lifespan.
Male dogs' instinct to stray from your home will be decreased. Spaying your female will decrease her risk for urinary infections.
Sensitive to Extreme Weather
It is vital you are sensitive to extreme weather your puppy may encounter. Provide your puppy with a shady place to play with plenty of water. Do not leave your puppy in a hot vehicle. By taking this precautionary measure you can avoid the chance of your puppy getting heat stroke or overheating therefore keeping your puppy much happier.
When the weather turns cold be cautious of the amount of time your puppy is outdoors. Provide coats/sweaters for the dogs if necessary.
Nutritious Dog Food
Taking care to insure you're feeding your Goldendoodle or Golden Retriever puppy a healthy nutritious dog food is a very important step in keeping your puppy healthy.
We at Golden Crest Retrievers & Doodles recommend Purina Pro Plan Performance all life stages dog food. We have seen firsthand what a wonderful improvement it has had on our own dog's health and recommend it to all our puppy customers.
Making sure you are feeding your puppy the proper amount of food is also importing in keeping a healthy weigh. Which in return can prevent your dog from becoming overweight and prevent obesity-related illnesses and extend your dog's lifespan.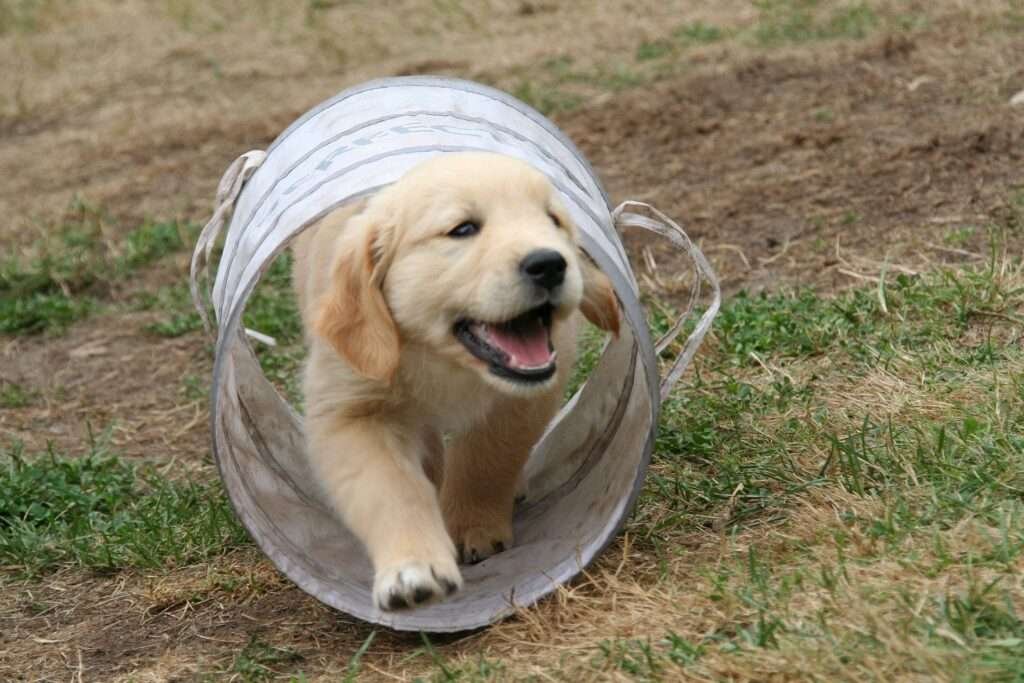 Exercise: Physical & Mental
Taking your puppy for a hike, run, or walk, playing games is wonderful ways to be active your puppy. Staying physically fit is a great way to stay healthy.
Keeping your Golden Retriever or Goldendoodle mentally fit is also important. Providing toys that provide your puppy mental stimulation. Introduce new places with new smells while you are taking your daily walk. Hide treats from your puppy and see if they can sniff them out resulting playtime together and mental stimulation.
· Want to be Placed on Our Waitlist? ·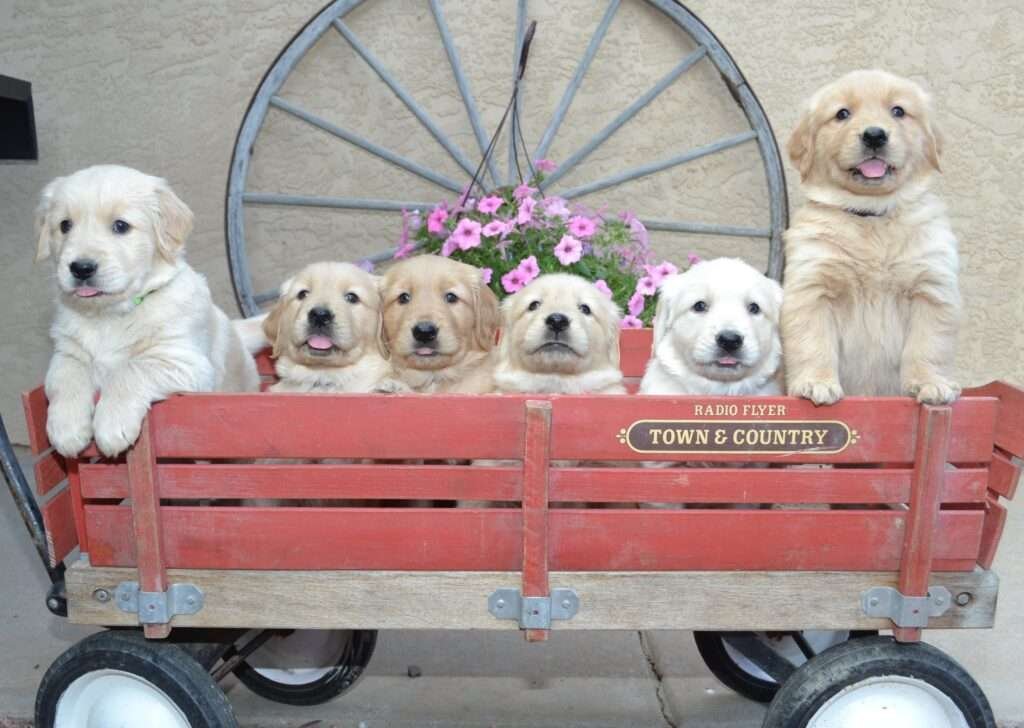 If you would like to make a deposit to be placed on our waiting list for our current litter/ future litter please give us a call and/or fill out a puppy application.