A healthy golden retriever puppy starts with healthy parents. All our moms are Embark genetic health test.
We know it can be scary to think of unexpected vet bills due to injury or illness, so we partnered with Trupanion to provide you with 30 days of Pet Insurance Coverage.
Better known as Early Neurological Stimulation is one of the best things you can do to kick start your puppy's social skills. All our puppies will have completed the SDT program by 2 weeks of age.
We take no chances; we make the additional stride in microchipping each of our puppies before they go to their fur-ever families. Increasing the chance of a safe return if your puppy is lost.
Our litter videos help you see how the puppies interact with each other as well as our small children. We continue with video updates to keep you informed while you anxiously await the day you pick up your puppy.
Golden Retriever Breeder in Colorado
Golden Crest Retrievers & Doodles, owned by Mark and Robyn Otto with the help of our 4 children, is a Golden Retriever & Goldendoodle breeder in Florence, Colorado.
Even though my husband has employment outside of dog breeding, we do not consider ourselves to be hobby breeders. We enjoy the puppies like a hobby, but we take it seriously as if it were our main line of work.
We had several pet Rottweilers before we had children, and we soon learned that Rottweilers think they are lap dogs regardless of how big they are or how small the human is and so our small children were not able to "hold" them. Later we adopted a Golden Retriever puppy, and our son says "I love dis dog, she doesn't poosh me" so we decided the Golden Retriever is a better fit for a family with small children because of their medium size and very gentle nature.
· Puppies For Sale / Adoption ·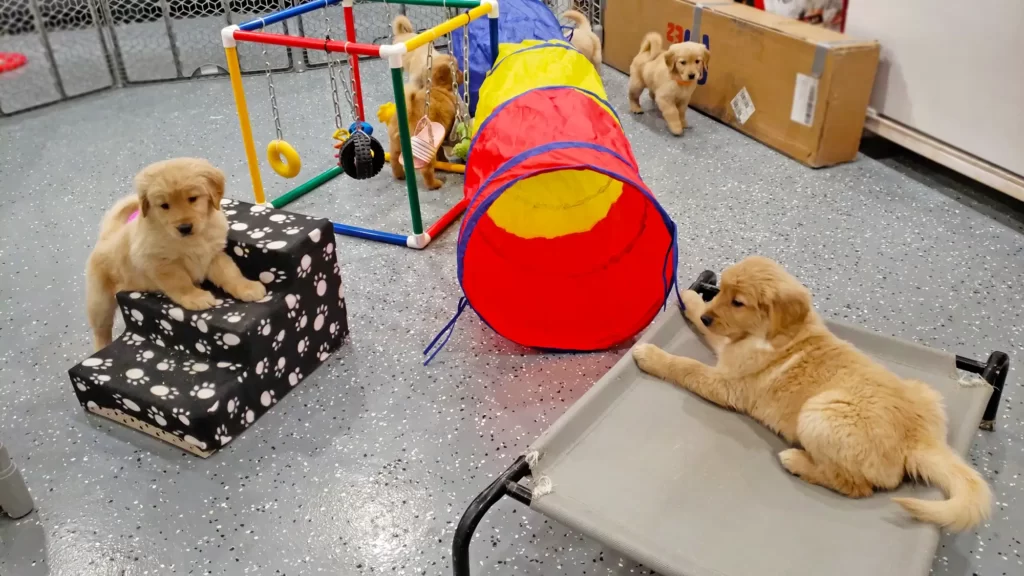 Licensed Vet Health Check
First Month of Premium Dog Food
2-yr. Genetic Health Guarantee
30 Days of Pet Insurance
Life-Time Breeder Support
Puppy ID Microchipped
Puppy's First Collar
Blank with Mom's Scent
Peace of Mind – Parents are DNA Tested
Video Updates of Growing Puppy
Up To Date On Vaccinations
Regularly Dewormed
Access to All Medical Records Via Breeder Cloud
Best Golden Retriever Breeder in Colorado?
Whatever you do, do to your best ability. This is not only a goal but a way of life for my husband. Spending many hours doing research on how to better our breeding program to provide families with the healthiest, loving companions.
"Whoever exalts himself will be humbled, and he who humbles himself will be exalted"
Matthew 23:12 KJV
Even though we strive to be the best Goldendoodle and Golden Retriever breeder in Colorado. We would rather our past puppy customers speak on our behalf.  We are fortunate enough to have been blessed with many good breeder friends that have shared their wealth of knowledge and experience with us. They have been a very valuable asset to our breeding program.
In addition to the latest advancements in DNA testing, our beautiful golden retriever moms, and plenty of Colorado sunshine we believe our breeding program is on the right track.
We have learned firsthand how important early neurological stimulation is in the early stages of the puppy's life. We believe that has greatly improved their social skills and gives them a head start in learning to love and trust their human companions. Now that we have seen the improvement it has made, we incorporate ENS with all our litters. The Golden Retriever and Goldendoodle puppies we raise will have completed the Super Dog Program (ENS) by 2 weeks of age.
---
10 Reasons to Love Golden Retriever Puppies 
Are you searching for the perfect furry addition to your family? Golden Retriever Puppies may be just what you're looking for! These lovable furballs are known for their friendly temperament, intelligence, and loyalty. At Golden Crest Retrievers, we're proud to be voted as one of the best Golden Retriever Puppy Breeders in Colorado. 
As we take pride in education, we've got ten reasons why you absolutely need a Golden Retriever in your life. 
Golden Retriever Puppies Overview
Golden Retrievers are a popular choice for families looking for a new dog. They are known for their friendly personality, intelligence, and trainability. Golden Retriever Puppies also have a reputation for being good with children.
Here are some things to consider about Golden Retriever Puppies when they grow up.

Size – Male Golden Retrievers are generally 23-24 inches tall and weigh 65-75 pounds (29-32 kg). Females stand 21-22 inches tall and weigh 55-65 pounds (25-29 kg), 

Coat – Golden Retrievers have a water-resistant wavy or flat coat in varying shades of cream to dark golden. A trademark of this breed is the broad head with intelligent eyes and medium floppy ears, as well as its flowing tail. Like most dogs, Golden Retrievers shed their coat, with heavier shedding in springtime.

Exercise needs – Golden Retriever Puppies need lots of exercise. They should be taken on at least one long walk or run every day. If you don't have time for daily walks or runs, then Golden Retriever Puppies can become hyper.
Activity – Golden Retriever Puppies can become very serious workers and excel at many things including hunting, guiding the blind, and search-and-rescue but are also contenders in obedience and various other competitions. Golden Retriever Puppies are outgoing, trustworthy, and easily trained due to their eagerness to please.
Life Span – Golden Retrievers generally have a life span of 10-12 years. Some may live longer, but this is not always the case. The oldest recorded Golden Retriever was 28 years old!
10 Reasons You Need A Golden Retriever Puppy
Here are ten reasons we love Golden Retriever Puppies and why we think a Golden Retriever Puppy could be the perfect addition to your home.
1. Golden Retriever Puppies have Great Temperaments.
Golden Retrievers have a reputation for being one of the most even-tempered dog breeds. They are known for being very gentle, loving, and devoted to their families. Golden Retrievers make great family pets and are good with children of all ages. 
2. Golden Retriever Puppies are Easy to Train.
Training a Golden Retriever is relatively easy compared to some other dog breeds. They are intelligent and eager to please, which makes them quick learners. With patience and consistency, most Golden Retrievers Puppies will learn basic commands within a few weeks, sometimes only a few days. 
3. Golden Retriever Puppies are Loyal.
There are few things in this world more loyal than a golden retriever. These amazing dogs have been known to stick by their human companions through thick and thin, forming unbreakable bonds of friendship and love. Whether you're having a bad day or celebrating a great one, your golden retriever will be right by your side, always ready to lend a comforting paw or wagging tail.
4. Golden Retriever Puppies are Great for Families.
Families looking for a furry friend need not look any further than the Golden Retriever! They are gentle and loving, and they make great playmates for Children. Golden Retrievers are also very intelligent, so they can be trained to do tricks or obedience commands. 
5. Golden Retriever Puppies are Gentle With Children.
Golden Retrievers are one of the most gentle and loving dogs which makes them ideal around children. They are known to be patient, good-natured, and very loyal, which is why they make such great family pets. If you are looking for a family dog that will provide endless love and companionship, then a Golden Retriever Puppy is the perfect choice!
6. Golden Retriever Puppies are Companions for Seniors.
As we get older, we often find ourselves spending more time at home. Our social circles may shrink and we may not have as many opportunities to get out and about. This is where a furry friend can come in handy. A dog can provide companionship, help reduce stress and anxiety, and even improve our overall health.

Golden Retrievers are patient and loving, which makes them ideal companions for seniors. Golden retrievers are also very active dogs, which can help keep seniors active and engaged. Walking a golden retriever is a great way to get some fresh air and exercise. And because they're so social, golden retrievers can help seniors combat loneliness and isolation.
7. Golden Retriever Puppies are Hardworking.
The golden retriever is one of the most hardworking and versatile dogs around.
They were originally bred to help with hunting and retrieving game birds. Today, they are still used for hunting, but they are also popular as service dogs.
Golden retrievers are intelligent, obedient, and eager to please, making them ideal candidates for a variety of jobs as therapy dogs, search-and-rescue dogs, and even Guide Dogs for the Blind.
No matter what their job may be, golden retrievers always give 100%. and they never complain.
It's this willingness to go the extra mile that makes golden retrievers such outstanding workers. And it's also what makes them such beloved members of the community. From hospitals to disaster zones, these dogs are always ready and willing to lend a helping paw.
8. Golden Retriever Puppies Love to Play Fetch.
Golden Retriever Puppies are perfect for anyone looking for an energetic and affectionate companion. One of the things that makes them so special is their love of playing fetch.
Golden Retrievers are known for their retrieving ability, and they love nothing more than chasing a ball or Frisbee. This means that they make great playmates for children and adults alike. If you're looking for a dog who will always be up for a game of fetch, then Golden Retriever Puppies are for you.
9. Golden Retriever Puppies are Great Swimmers.
Swimming is a favorite activity for Golden Retriever Puppies! They have a waterproof coat that helps keep them warm in the water, and their webbed feet make them excellent swimmers. Golden Retrievers love to swim, and they make great swimming companions. If you're looking for a dog who loves the water, a Golden Retriever is a great choice.
10. Golden Retriever Puppies Will Make You Laugh.
There are plenty of reasons to get a Golden Retriever puppy, but one of the best is that they will make you laugh. They are known for their silly antics and happy dispositions, which are sure to bring a smile to your face. Even when they're naughty, it's hard not to laugh at their hijinks. So if you're looking for a furry friend who will brighten up your day, a Golden Retriever puppy is the perfect choice.
Finding a Golden Retriever Breeder
There are a few things to keep in mind when looking for a golden retriever breeder. First, you want to find a reputable Golden Retriever Breeder with a good track record. Second, you'll want to ask about the health of the puppies and if they come with any guarantees. Third, find out what the breeder's policy is on spaying and neutering. Finally, make sure you're comfortable with the breeder and feel like they have your and the puppy's best interests at heart.
Reserving a Golden Retriever Puppy
Would you like to get a cuddly Golden Retriever Puppy? If so, why wait?
Golden Crest Retrievers has helped many Golden Retriever lovers and first-time Golden Retriever owners find the perfect puppy, and we'd love to help you, too. Our team can assist you in finding the right puppy by completing our Puppy Application or giving us a call.