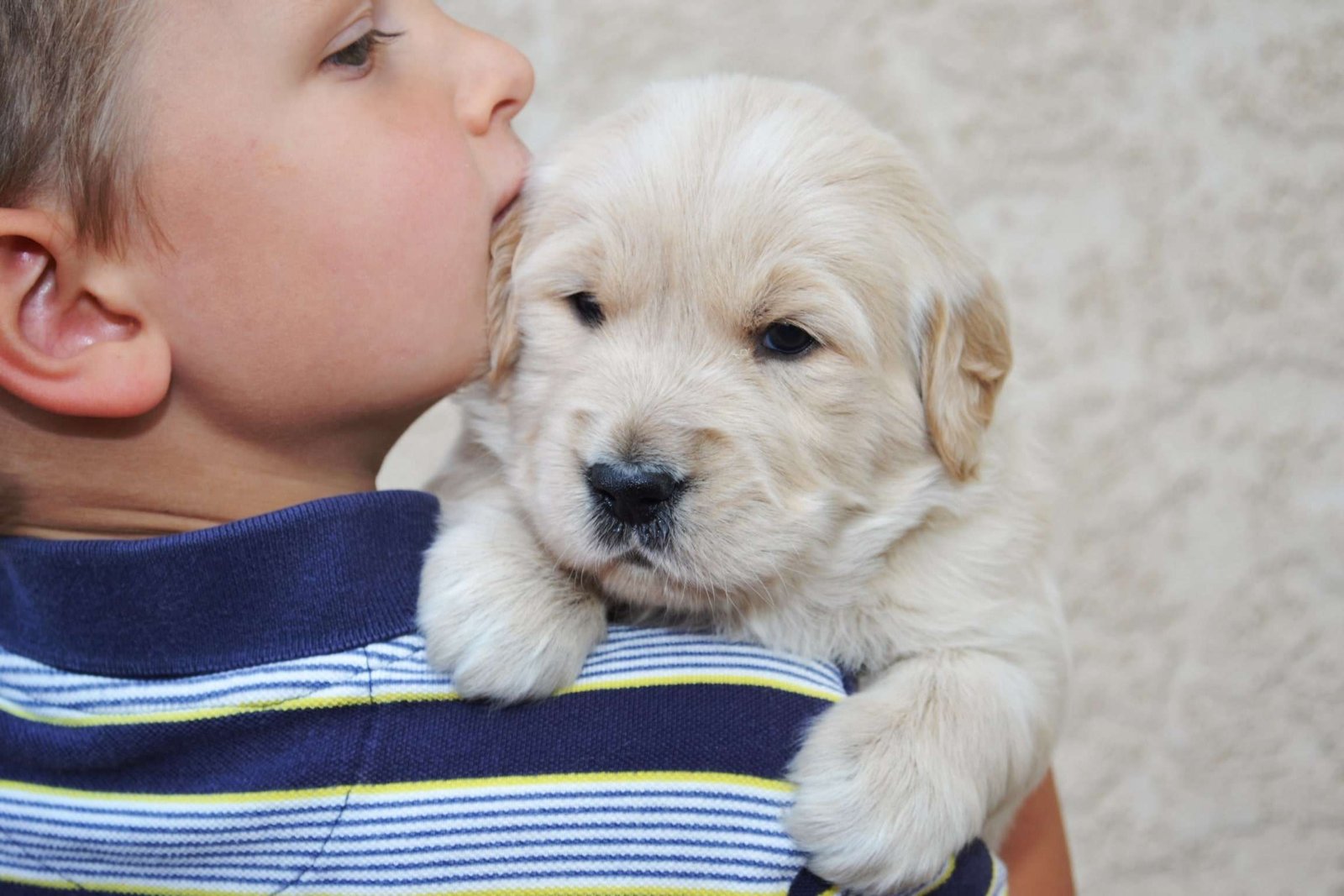 DNA Health Tested
A healthy puppy starts with healthy parents. All our doggy parents are Embark genetic health test.

Health Guarantee
You can have peace of mind when you choose a puppy from us with our 2-year genetic health guarantee.

Pet Insurance
We know it can be scary to think of unexpected vet bills due to injury or illness, so we partnered with Trupanion to provide you with 30 days of Pet Insurance Coverage.
Super Dog Training
Better known as Early Neurological Stimulation is one of the best things you can do to kick start your puppy's social skills. All our puppies will have completed the SDT program by 2 weeks of age.
Microchipped
We take no chances; we make the additional stride in microchipping each of our puppies before they go to their fur-ever families. Increasing the chance of a safe return if your puppy is lost.

Video Updates
Our litter videos help you see how the puppies interact with each other as well as our small children. We continue with video updates to keep you informed while you anxiously await the day you pick up your puppy.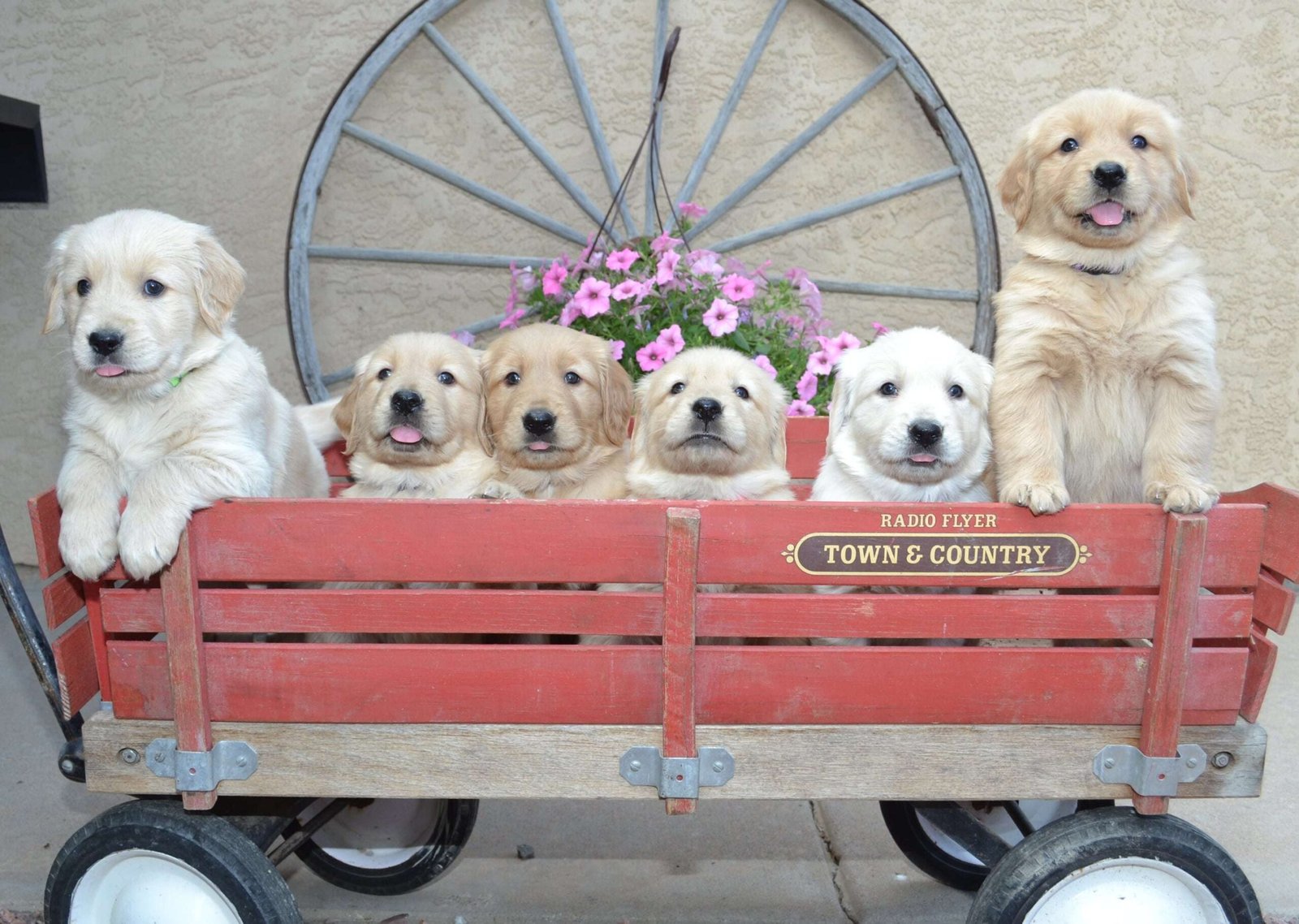 Golden Retriever puppies for sale in Colorado
Expecting Puppies September 2022!
Golden Retriever & Goldendoodle Breeder in Colorado
Our goal is to raise healthy, happy puppies that will make a special addition to your home. You can rest assured that our puppies will be up to date on vaccinations, deworming, and will have a Veterinary health examination before going to their new home.
Above all else, we believe that raising healthy puppies starts with healthy parents. All our adults are DNA genetic health tested so we can be confident the parents are not passing any genetic health disorders to their puppies. We believe in mental health as well and wish for our moms and dads to be happy, so they have access to lots of fresh air and sunshine.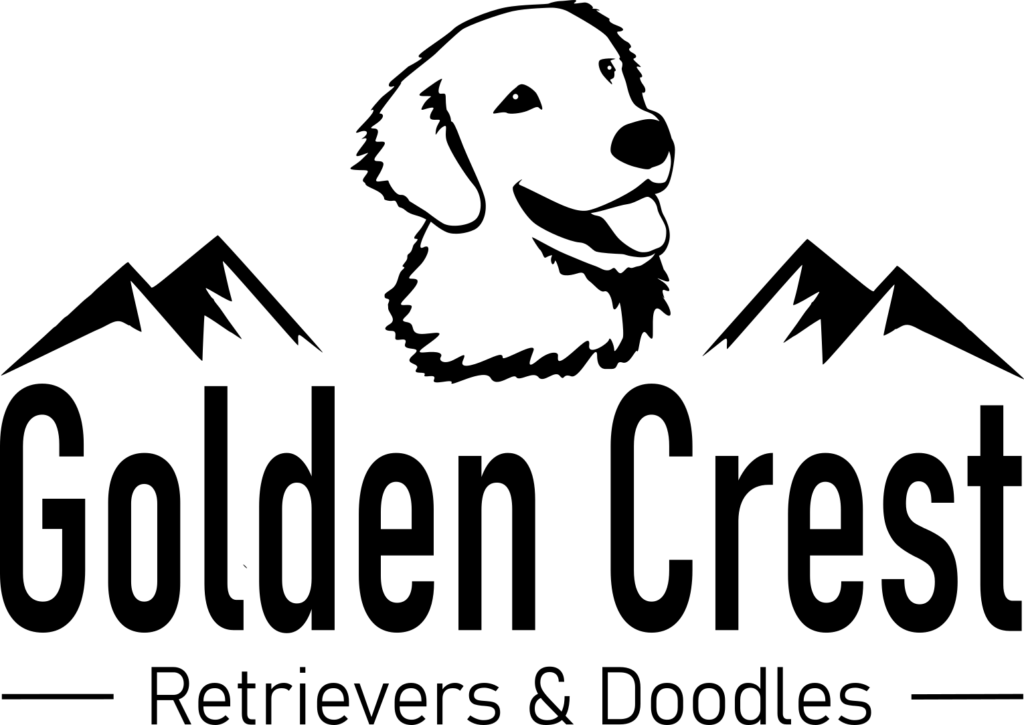 Focused On
Health & Temperament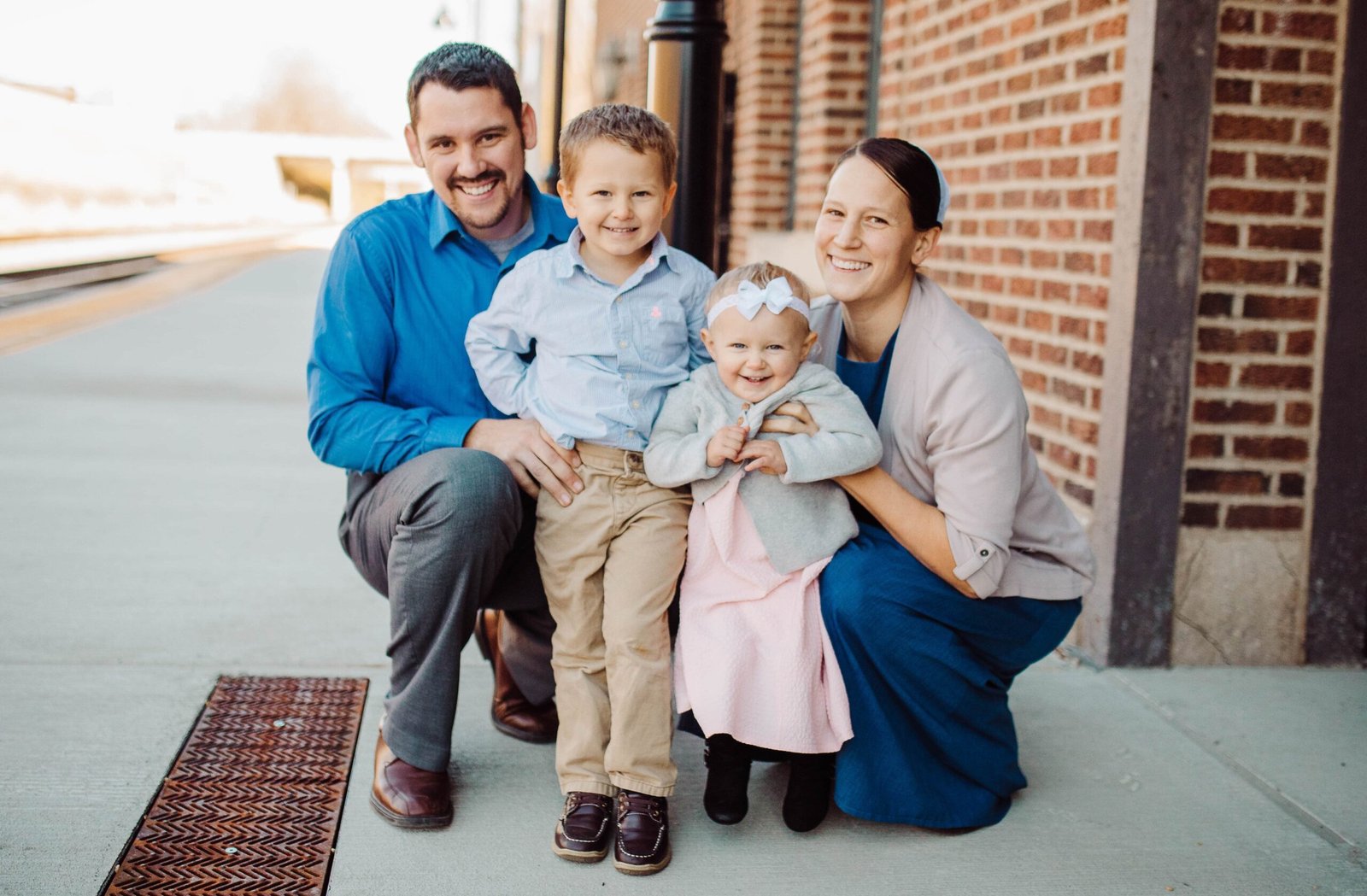 Choose a Reputable Breeder
Golden Crest Retrievers & Doodles, owned by Mark and Robyn Otto, is a small Golden Retriever & Goldendoodle breeder in Florence, Colorado. Formerly known as Prairie Wind Pets, we moved from Illinois in 2022 to work for Choice Books in Colorado. We moved during the wet and cloudy Illinois winter to pleasantly dry and sunny Colorado. Our dogs really enjoyed the climate change and spent many hours sunbathing.
Even though my husband has employment outside of dog breeding, we do not consider ourselves to be hobby breeders. We enjoy it like a hobby, but we take it seriously as if it were our main line of work.
Years ago, we had a few Rottweilers we adopted as family pets and grew very fond of their loving loyal personality. We thought it would be exciting to be able to raise puppies, but it wouldn't be until years later, after having had kittens, baby goats, lambs, and chicks on our property, that we were able to make that dream a reality.
In fact, we had several pet Rottweilers before we had children, and we soon learned that Rottweilers think they are lap dogs regardless of how big they are or how small the human is and so our small children were not able to "hold" them. Later we adopted a Golden Retriever, and our son says "I love dis dog, she doesn't poosh me" so we decided the Golden Retriever is a better fit for a family with small children because of their medium size and very gentle nature. The dog breeds we specialize in are Golden Retriever and Goldendoodle.
Of Course, our children were excited about the new mommas we adopted, and they love to play with our adult dogs as well as puppies. It is our joy to be able to share this experience with our children and to teach them the great responsibility of caring for animals. Our children are now at an age they can take part in helping socialize the puppies. Even though our children just think they are going out to play with them.
We hope that our small size will help us better connect with the families that are looking to bring a special furry friend into their homes. The fun continues for us as we receive photo updates of the puppies as they grow into adults in their forever homes.
All Our Adults are DNA Genetic Health Tested
30 days of Pet Insurance Coverage Included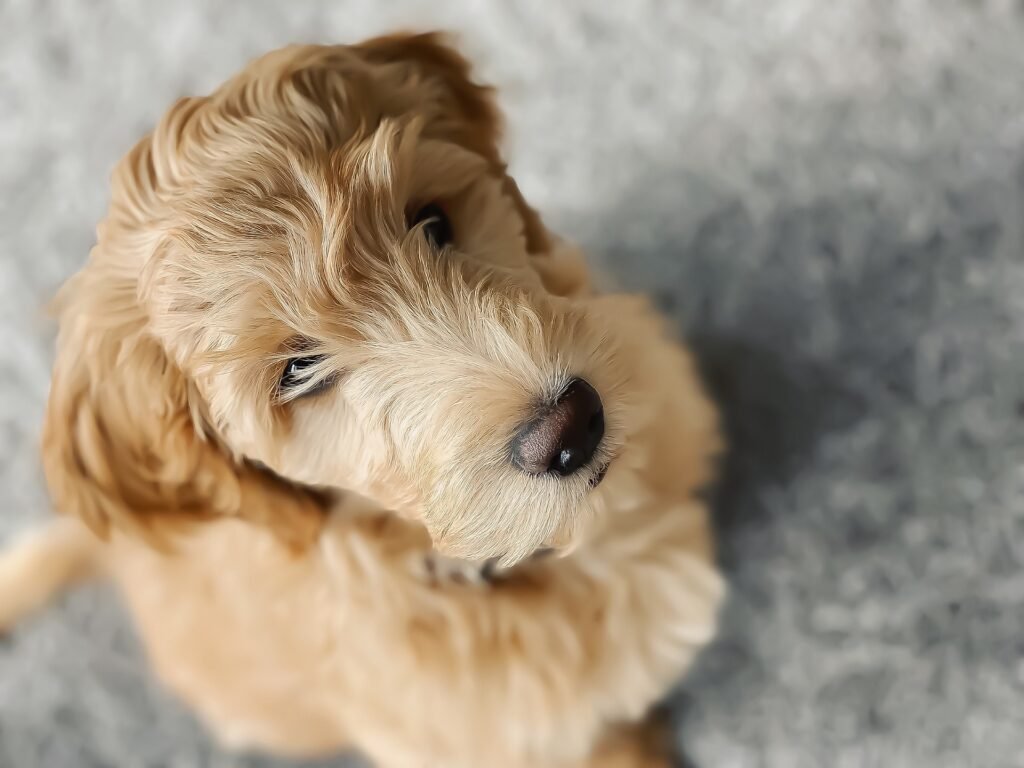 What's a Goldendoodle?
Looking for Goldendoodle puppies for sale? What is a Goldendoodle? Or is it a Groodle? Have you done your research on what puppy is best for you? Goldendoodles are a designer breed that comes from crossing a Golden Retriever with a Poodle. Goldendoodle size can range depending on the size variety of the Poodle parent.
Size
Large Goldendoodles typically stand 20 to 24 inches and 50 to 80 lb.
Medium Goldendoodles typically stand 17 to 20 inches and 40 to 50 lb.
Miniature Goldendoodles typically stand up to 20 inches and 15 to 35 lb.
Do Goldendoodles Shed?
Goldendoodles will shed but not as much as other dogs. The higher percentage of poodle the less likely the coat will shed. The Goldendoodle will shed less than their Golden Retriever parent making them a wonderful option for an inside dog. Something to remember, though, is all dogs have dander (dead skin cells), saliva, and urine, where allergens exist, so there is no guarantee a Goldendoodle won't set off an allergic reaction if you suffer from extreme pet allergies.
What's a Golden Retriever?
The Golden Retriever, a cheerful Scottish gundog of great beauty, is one of America's most popular dog breeds. They are great at hunting and fieldwork, as guides for the blind, and in search-and-rescue, enjoy obedience and other competitive events, and have an endearing love of life. The Golden Retriever is a sturdy, muscular dog of medium size, a breed hallmark for its dense, flowing golden coat that gives the breed its name. Goldens have a broad head, friendly and focused eyes, short ears, and a straight muzzle. Golden Retrievers have a merry walk with a smooth, powerful gait, and the feathery tail is carried.
Best Golden Retriever Breeder in Colorado
Whatever you do, do to your best ability. This is not only a goal but a way of life for my husband. Spending many hours doing research on how to better our breeding program to provide families with the healthiest, loving companions.
"Whoever exalts himself will be humbled, and he who humbles himself will be exalted"

Matthew 23:12 KJV
Even though we strive to be the best Goldendoodle and Golden Retriever breeder in Colorado. We would rather our past puppy customers speak on our behalf. We are fortunate enough to have been blessed with many good breeder friends that have shared their wealth of knowledge and experience with us. They have been a very valuable asset to our breeding program.
In addition to the latest advancements in DNA testing, our beautiful golden retriever moms, and plenty of Colorado sunshine we believe our breeding program is on the right track.
We have learned firsthand how important early neurological stimulation is in the early stages of the puppy's life. We believe that has greatly improved their social skills and gives them a head start in learning to love and trust their human companions. Now that we have seen the improvement it has made, we incorporate ENS with all our litters. The Golden Retriever and Goldendoodle puppies we raise will have completed the Super Dog Program (ENS) by 2 weeks of age.
Past Goldendoodle & Golden Retriever Puppies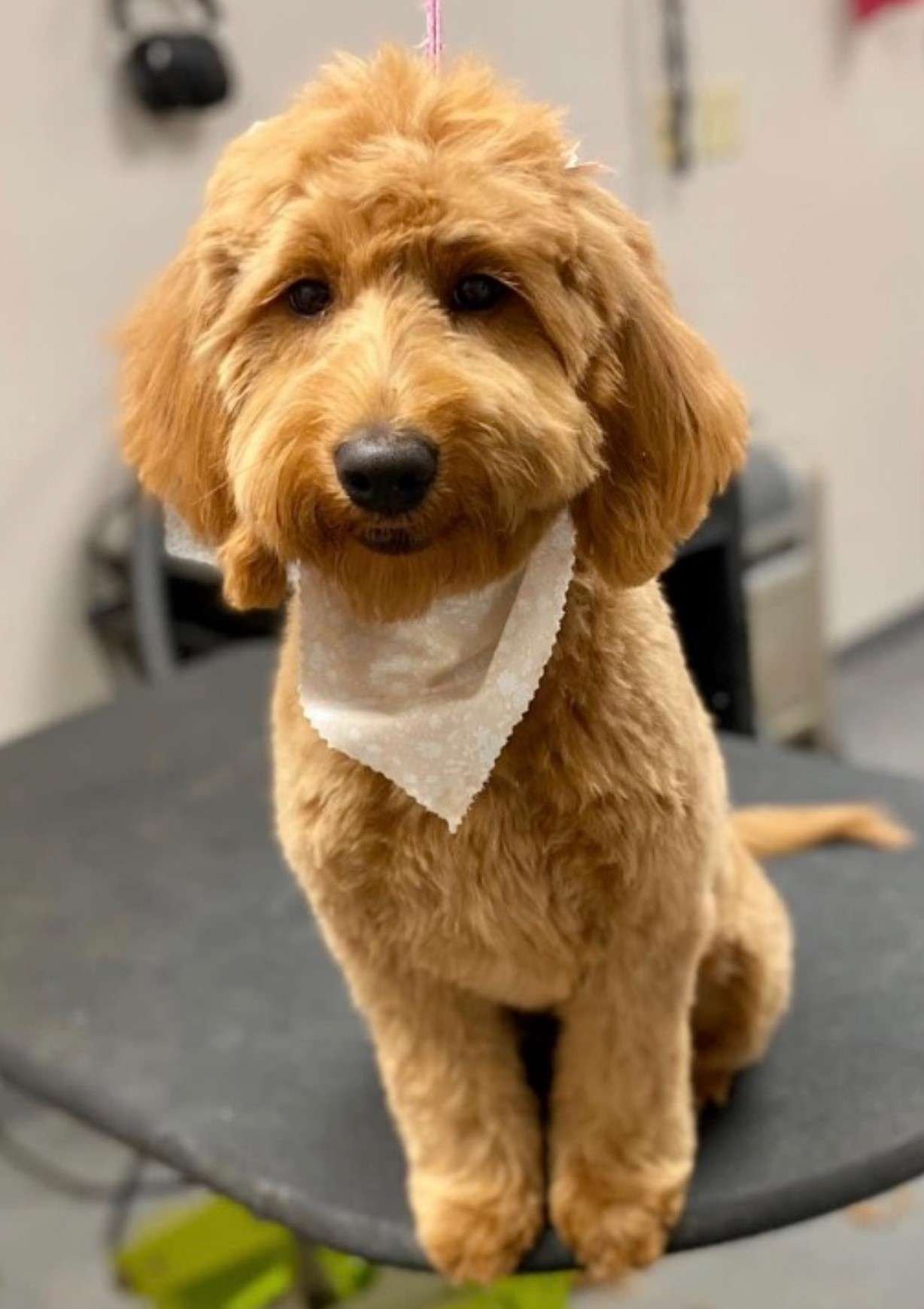 Contact Robyn (719)204-4835
Monday-Saturday
No Sunday Inquires
We are a Golden Retriever & Goldendoodle breeder in Colorado. We are about 2 hours from the Denver Airport. We are a little less than an hour from the Colorado Springs Airport. We hope by being a Golden Retriever & Goldendoodle breeder near Denver and Colorado Springs we can connect with a lot of loving families looking for their newest addition to their homes.
"Children are a gift from the Lord ; they are a reward from him."

Psalm 127:3 NLT