Ready to get serious about adopting your next puppy? How exciting! First things first, let us look into the adoption process before we start dreaming about what color collar your puppy needs.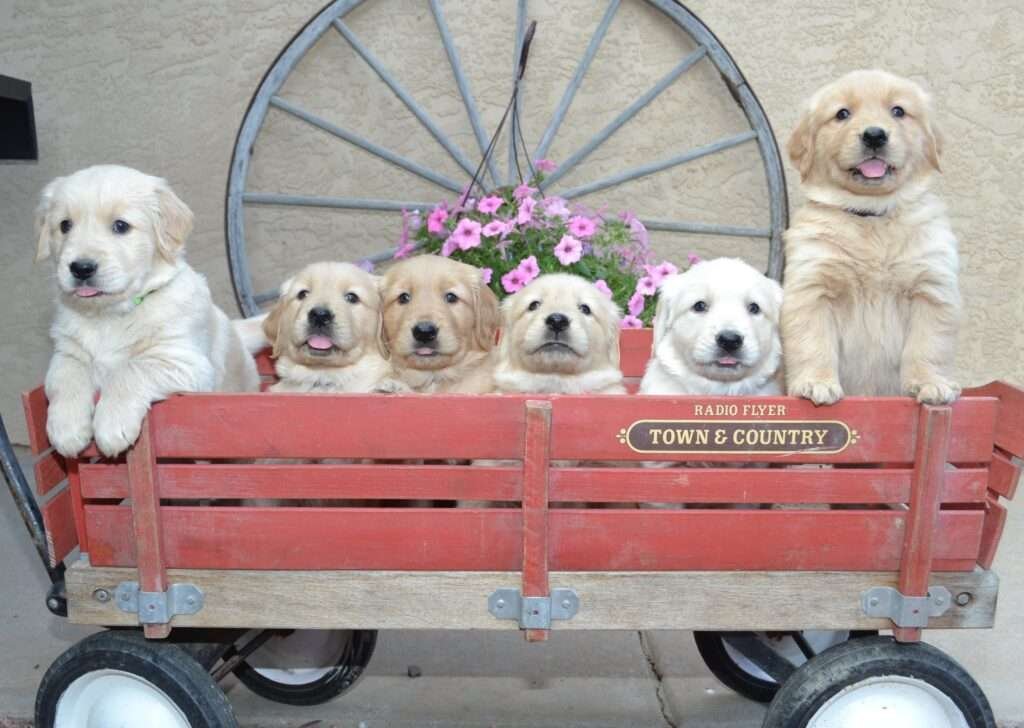 1. Research
Picking out a puppy is a serious task. We encourage all our customers to do their research and understand different breeds and their specific traits. We care about each of our puppies, and we want each of them to live a good life with a good family that is prepared and educated about their specific needs.
2. Fill out an Application
If you believe you are capable of responsible and conscientious puppy ownership, and you think you have the time to invest in training a puppy, and if you want to make a puppy a part of your family, then we invite you to take the first step in the adoption process and fill out and submit our online application.
An application does not guarantee your acceptance or commit you to anything. It simply starts the conversation with us and lets us know you are interested in a puppy.
We will be in touch within 48 hours (usually sooner) to continue the conversation. As responsible breeders, we try to do what's best for our puppies and our clients. Our goal is to determine whether your family will be a good match for the puppy and whether the puppy will be a good match for your family.
3. Deposit
After your application is approved, you will be given a link to make a deposit to be placed on our waiting list. Please note that simply having your application approved does not secure your spot on our waiting list. Waiting list spots are not official until deposits are received.
The deposit can be made by clicking the button from the link we provided. It will then ask for some basic information. After you fill in the information, click the Proceed to PayPal Button. Please note, you can pay with your credit card if you don't have a PayPal account. You will receive a confirmation of our receipt of your deposit. Once your deposit is received, you will be placed on our active Waiting List.
Deposit Refunds
At Golden Crest Retrievers, we understand that life happens and things can change at any moment, and we don't want you to lose money if they do. We want you to feel confident in working with us and if circumstances arise that prevent you from completing the adoption process with us we will reimburse your deposit minus a 10% processing fee. Please get all the permissions needed (ideally in writing) before making a deposit. If you rent your home be sure your landlord allows dogs on the property.
Once you select a puppy from Puppy Picking Day, (detailed below) deposits will no longer be refundable as you will be transferred from the waiting list to being matched with a puppy.
We will notify you when a litter is born to provide details about the litter and of the date for in-person puppy picking and what picking order you have. The picking order is based on when you have placed your deposit. Puppy picking usually occurs when the puppies are between 6 weeks and 7 weeks old
4. Preparing for Your Puppy
One of the most frequently asked questions we get is "What do I need to be ready when it's time to bring my puppy home?" That is a great question as it shows responsibility and awareness that caring for a puppy is a big undertaking.
To help our puppy people be prepared for Adoption Day, we have compiled some of our favorites and Recommended Puppy Supplies. Feel free to check them out.
Also, check out our Puppy Tips page for a few pointers on feeding and potty training, etc.
Puppy Updates
We will make it our goal to give you weekly updates on the puppies with photos and/or videos that we post on our YouTube and/or Instagram page. Feel Free to subscribe to our YouTube channel and follow us on Instagram and Facebook to receive updates on the puppies. We know you are anxiously waiting to pick your new puppy, and we want to keep you in the loop as much as possible.
Important!
It is very important that you schedule a wellness exam with your vet. For our protection as well as our puppy customer we require the puppy to have a wellness exam from a licensed Vet within the first 72 hours of leaving our nursery for our 2-year Genetic Health Guarantee to be valid. It is always easier to schedule an appointment in advance as some vets are booked well into the future.
5. Puppy Picking
In-person puppy pick day gives families a chance to meet our dog parents, puppies, and other families from the litter, and to answer any questions they may have before puppy go-home day.
On puppy-picking day, you can look forward to getting a chance to interact with the puppies. We aim to ensure that everyone has an enjoyable experience and urge families to come on time, so we can all start having fun together. We recommend limiting playtime to 30 minutes as the pups tend to get sleepy after this amount of time.
We ask that you list the same number of puppies as your spot in line. With #1 Being your most desired and so on. For example: if you had 3rd pick, you would list 3 puppies. We provide a list of the puppies with their photo and the color of the id collar, as well as a note section, to make this process easier.
The picking order is based on when you have placed your deposit.
To ease your puppy-picking process if you live far away and choose not to attend, we provide multiple video updates of the puppies as well as photos.
If someone else already selected the puppies you were interested in, you may pass on the current litter and wait for the next one, to increase your chances of getting the puppy you want.
6. Adoption Day!
Its finally here!! The wait is over! Your puppy has passed its health examination and is ready to go home with you! Puppy adoption day is when the puppies are 8 weeks old, if puppies were born on Sunday, then Adoption Day will be the Monday following 8 weeks old. Although it's extremely rare, sometimes Adoption Day may need to be adjusted to our vet's recommendations. We reserve the right to keep the puppy longer for the safety of the puppy. We will notify you ASAP if Adoption Day changes so you can plan accordingly.
We have found it works best if each new puppy family schedules a time to pick up their puppy instead of doing it as a group, like on Puppy Picking day. Please arrange to pick up your puppy between 8 weeks and 9 weeks old. If you need us to keep the puppy past 9 weeks old there will be a $ 30-a-day boarding fee.
You will receive registration forms (if applicable), a bag of food, 2-yr. Genetic Health Guarantee, medical records via Breeder Cloud, health report from a licensed Veterinarian, 30 days of pet insurance, puppy collar, and comfort blanket with a familiar scent.
We ask the new puppy families to provide a healthy living environment (clean bedding, sufficient food, and water), stay up to date on vaccinations and deworming, invest time in training, and provide for their emotional welfare.
We ask that the owner takes their puppy to a veterinarian of their choice within 72 hours of picking up their puppy for the 2-year genetic health guarantee to be valid.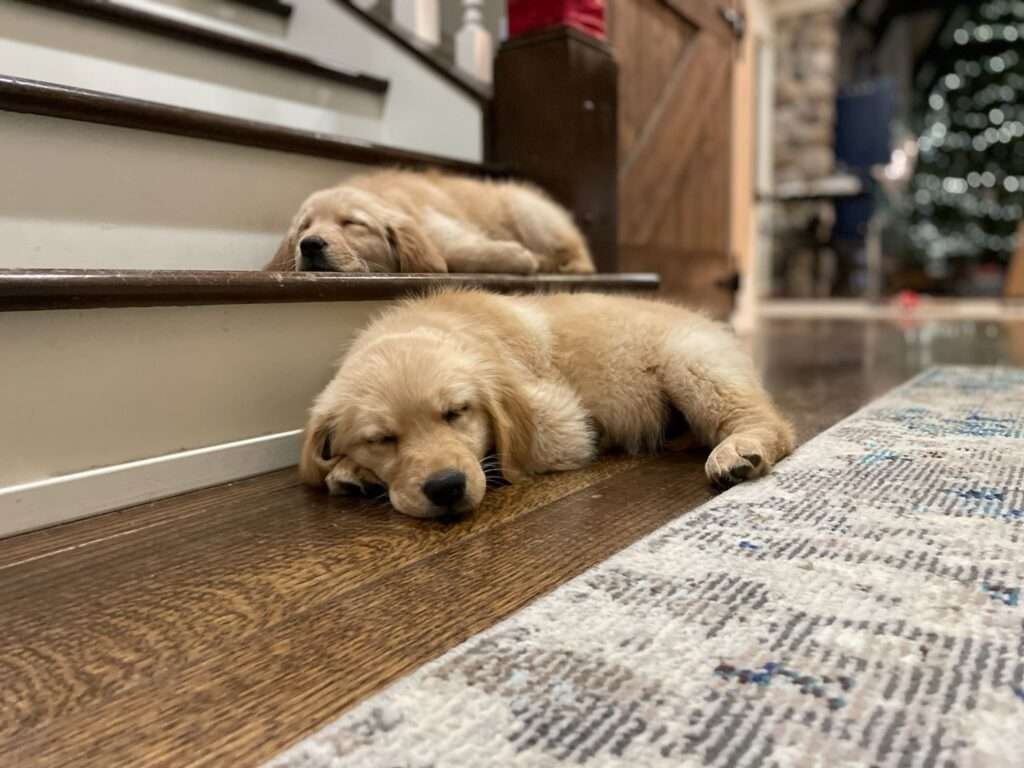 2-year Genetic Health Guarantee
Golden Crest Retrievers provides a 2-year genetic health guarantee on our Golden Retriever and Goldendoodle puppies. This will cover the new puppy's family on any genetic life-threatening diseases that they may encounter in the first 2 years of the puppy's life. For our protection as well as our puppy customers we require the puppy to have a puppy wellness exam from a licensed Vet within the first 72 hours of leaving the Golden Crest Retrievers nursery for the 2-year genetic health guarantee to be honored.
Importance of Healthy DNA Tested Parents
We take great pride in providing healthy parents in our breeding program. Our adult dogs are DNA genetic health tested so we know exactly what genetics we are breeding into our puppies. This step alone gives us confidence in the health of our puppies.
The health of our puppies is our focus. We closely monitor our puppies from the day of birth to the time they leave the nursery to insure the health and well-being of the puppies.
At Golden Crest Retrievers we believe in sharing all the medical information on your puppy from day 1. The Breeder Cloud Pro helps us to conveniently post all the deworming dates, vaccines, microchip numbers, and vet information. The Pet Portal of the Breeder Cloud allows you access to medical information whenever you need it. This makes it easy to forward needed information to your Vet.
· Want to be Placed on Our Waitlist? ·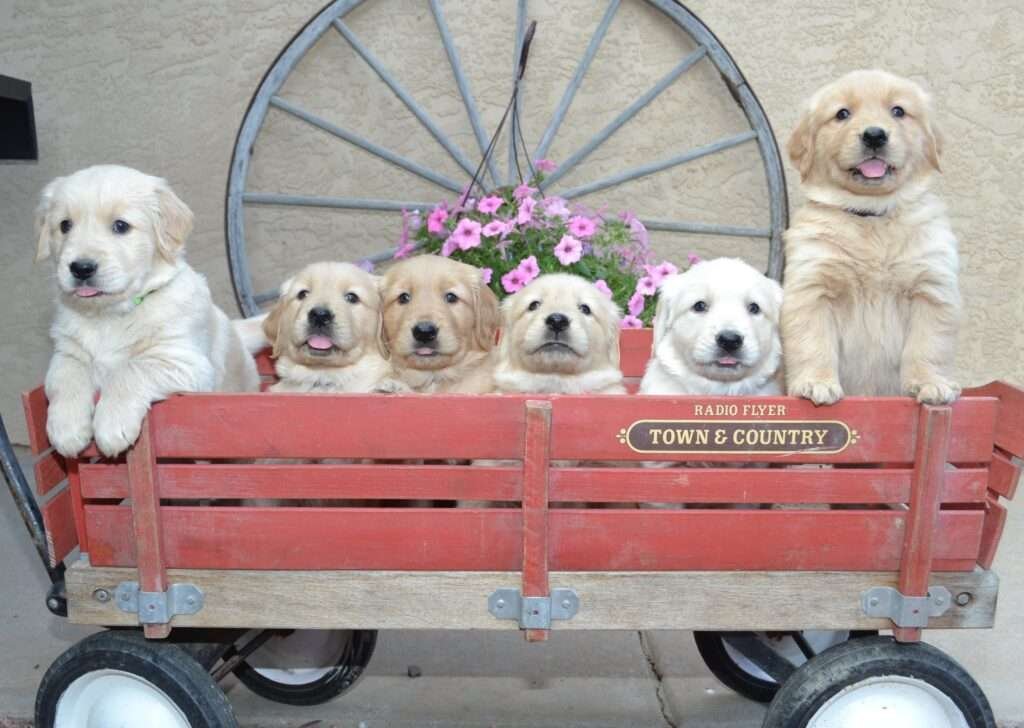 If you would like to make a deposit to be placed on our waiting list for our current litter/ future litter please give us a call and/or fill out a puppy application.