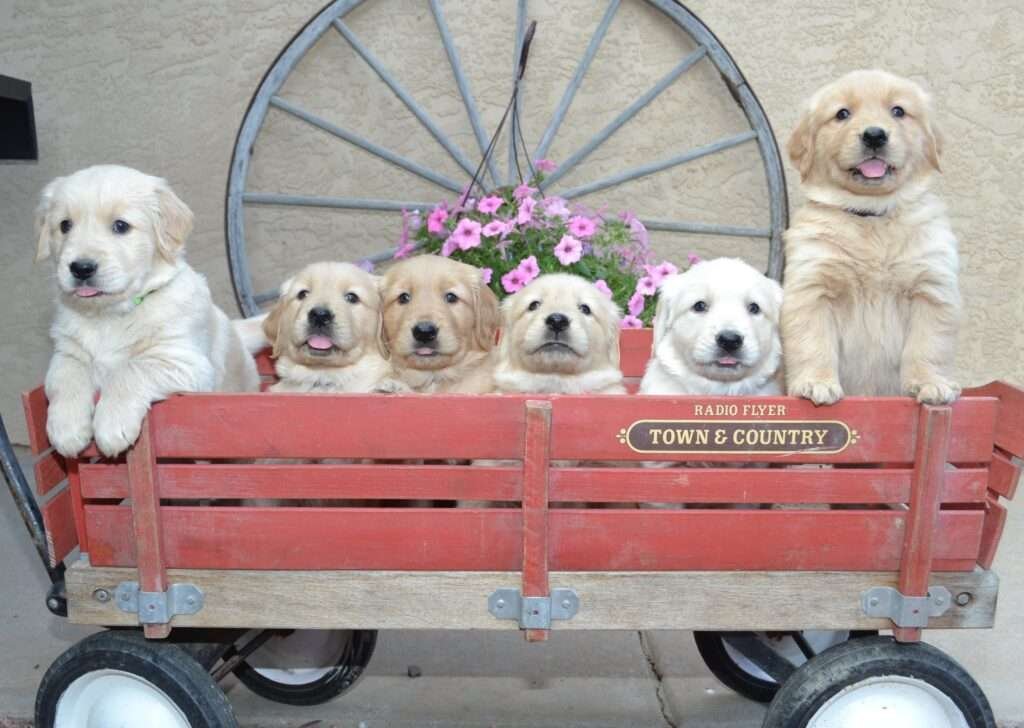 Ready to get serious about adopting your next puppy? How exciting! First things first, let us look into the adoption process before we start dreaming about what color collar your puppy needs.
RESEARCH
Picking out a puppy is a serious task. We encourage all our customers to do their research and understand different breeds and their specific traits. We care about each of our puppies, and we want them all to live a good life with a good family that is prepared and educated about their specific needs.
Deposit & Puppy Pricing
As responsible breeders, we try to do what's best for our puppies and our clients.
To provide healthy, well-bred Golden Retriever puppies, we have invested large amounts of money into our program with Genetic testing, OFA certifications, temperament screening, and feed high-quality dog food.
As well we invest a lot of time and energy in our puppies to raise them to be great companions you will enjoy for many years to come. This includes Early Neurological Stimulation (ENS) exercises, introducing different surfaces, tactile experiences, and sounds to desensitize and prepare the puppies for life after they leave the nursery.
We try hard to provide the best puppies possible and we support you as the client for the life of your pet. All this investment reflects on the pricing of our puppies.
Deposit
The $300 deposit is non-refundable and will be applied to the total purchase price of your puppy. The remaining balance of $2900 will be due at 8 weeks when you pick up your puppy. Cash is our preferred form of payment.
We ask that a puppy application form be submitted or a phone consultation be made before deposits are placed. We enjoy talking with our future puppy's family and use this time to learn more about you and answer any questions you may have about us.
After your deposit is received, your name will be placed on our waiting list for the current or future litters. You will be notified after the puppies are born and asked whether you would like to secure your place in line for that litter. If you do not wish to pick from the current litter you will move to the next litter and will be notified shortly after the puppies are born to secure your spot for that litter. In-person puppy picks will be made at 6 weeks in the order we received your deposit. We will provide individual photos of each puppy and a litter video for those who are unable to visit and make a selection in person. If someone in line before you picks the puppy you were wanting and you no longer wish to pick from that litter you can wait and pick from the next available litter, possibly placing you at the top of the list.
*In-person puppy picks will be made between 6-7 weeks. Please arrange your plans accordingly so puppy picks can be finalized by 7 weeks old.
*The breeder reserves the right to first pick every litter.
REFUND
Deposits are non-refundable. If you default and do not pick up your puppy, your deposit will be used to offset the cost of finding another home for the puppy. We try to be compassionate and make allowances for special circumstances beyond your control during the adoption process. Please get all the permissions needed before making a deposit. If you rent your home be sure your landlord allows dogs on the property.
OWNERS' RESPONSIBILITY DURING THE ADOPTION PROCESS
We ask for the new owners to provide a healthy living environment (clean bedding, sufficient food, and water), stay up to date on vaccinations and deworming, invest time in training, and provide for their emotional welfare. We ask that the owner takes their puppy to a veterinarian of their choice within 3 business days of picking up their puppy for the 2-year genetic health guarantee to be valid.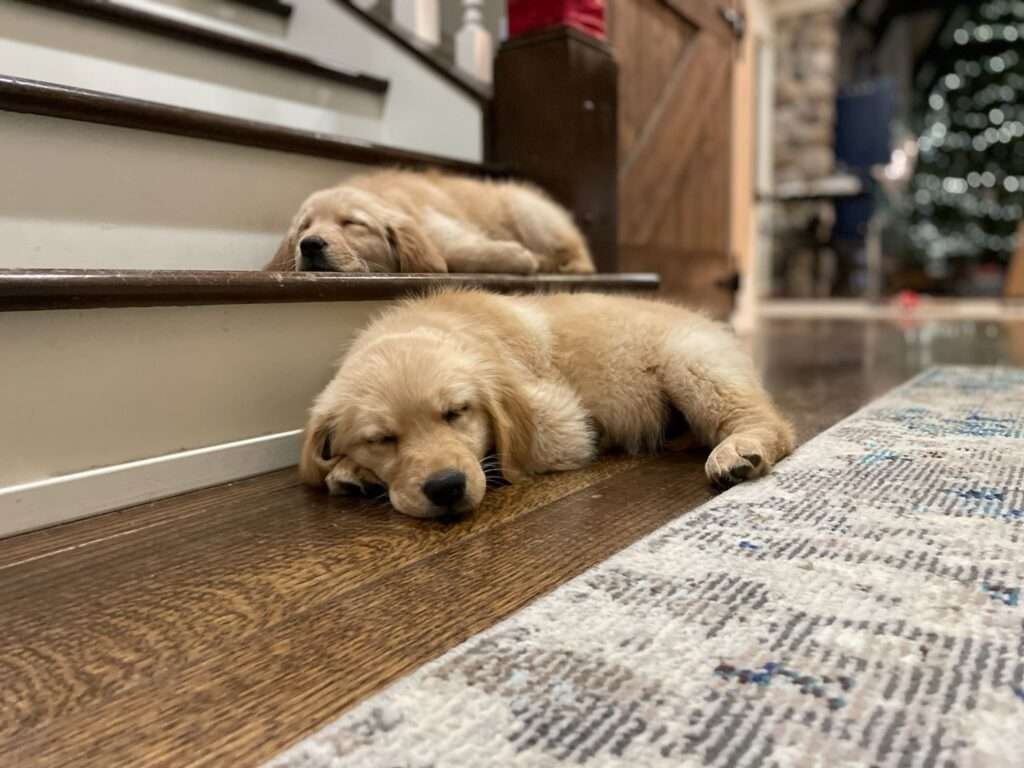 FINAL STEP IN THE ADOPTION PROCESS: LEAVING THE NURSERY
Bringing New Adopted Puppy Home
Your puppy will not be ready to go to their new home until they reach a minimum of 8 weeks old. We will make it our goal to give you weekly updates on your puppies with photos and/or videos that we post on our Youtube and/or Facebook page. We know you are anxiously awaiting your new puppy, but the puppies must pass their puppy health check, provided by a licensed vet before they can be released. On the rare occasion they are not ready to go we reserve the right to keep the puppy longer for safety of the puppy. You will have access to the puppy's medical records via Breeder Cloud.
After the puppy passes their Veterinarian exam, we will contact you to make an appointment for pickup. Please make arrangements to pick up your puppy within a week. If you need us to keep the puppy past 9 weeks old there will be a $ 30-a-day boarding fee. You will receive registration forms (if applicable), a bag of food, 2-yr. Genetic Health Guarantee, medical records via Breeder Cloud, health report from licensed Veterinarian, 30 days of pet insurance, puppy collar, and comfort blanket with a familiar scent.
VISITATION POLICY
We welcome anyone to come to meet us anytime but we ask that you wait until the puppies are 4 weeks old to meet the puppies and 6 weeks old to pet/hold the puppies.
We take great care of our puppies, and we wish to keep them as healthy as we can. We ask that only serious customers come to visit the puppies to reduce the risk of someone unintentionally bringing in a harmful disease (like parvo, giardia, etc.) into the nursery and risking the health of our puppies.
Please note that it places stress on the mother when strangers are around her puppies and handling them. .