Golden Retriever Breeder Guardian Program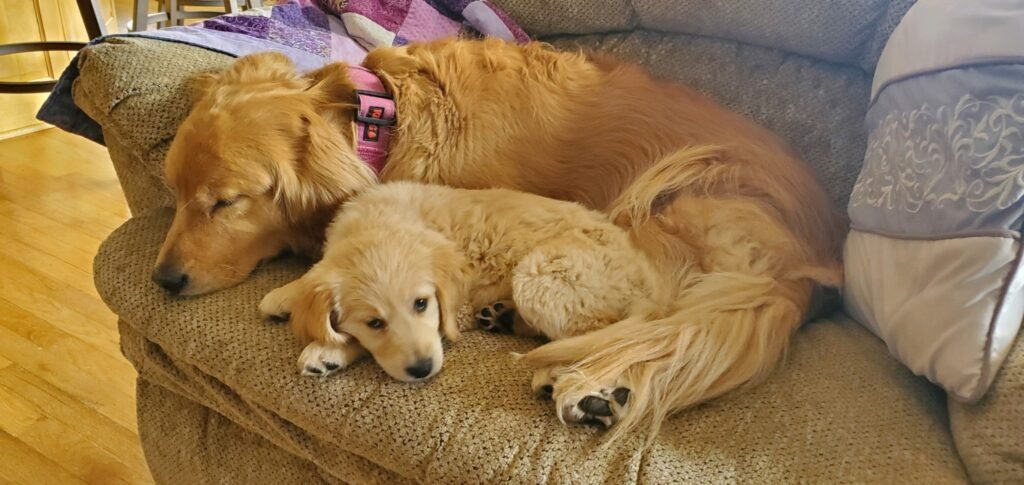 If you have been considering adding a new Golden Retriever to your family, you might consider the opportunity to become a Guardian Family for a Golden Retriever breeder in Colorado.
The Guardian Family option is a great way to adopt a new Golden Retriever without some of the initial up-front cost, but it is generally available only to experienced or suitable families.
But what is a Golden Retriever Guardian Family and why should you apply?
What is the Golden Retriever Guardian Program?
Our goal is to be of the best Golden Retriever Breeders in Colorado, As a reputable breeder, it is important for us to give our dogs the best life possible, so it is important for us to limit how many dogs we keep in our home. By limiting the number of dogs at our home we are able to spend more time individually with the dogs in our care and avoid the "kennel life".
However, we continually strive to add and assess high-quality bloodlines into our breeding program; therefore, we take special care in selecting a few puppies from some of our litters for further monitoring. These puppies could be beneficial for our program's future and can be placed in guardian homes.
Golden Retriever needs to be a part of a caring family to develop their full potential, which is why we have the guardian program.
How does the Golden Retriever Guardian program work?
We are putting the dog to the guardian family to raise and love and keep as a member of their own family. The guardian family trains and cares for the puppy as if it were their own.
The guardian is responsible for all normal costs of the care and medical expenses of raising a family pet.
We will cover the cost for all reproductive testing for your puppy between ages 12-18 months and anything related to future breeding.
If your Golden Retriever passes her genetic health testing, and hip clearances she will become a breeding adult but still live with the guardian family.
When her heat period arrives the guardian family must notify us and she will come to stay at our home for mating, (usually one week) and then go back to their guardian's home. Then she would come back to our home about one week before her due date and stay with us until her puppies were weaned. (usually seven weeks). After her final litter, she will be spayed, and she will retire with the guardian family and we will transfer ownership to the guardian family at no extra cost.
In the event the dog fails its breeding tests, the guardian will pay to have her spayed, and we will transfer ownership to the guardian family and retire the dog from our breeding program so she remains a family pet for at no additional fee.
What are the benefits of the Golden Retriever Guardian program?
There are many benefits to the Golden Retriever Guardian program and it is a win-win for all involved.
The guardian puppy/dog can live a full life with a loving forever family starting at a young age.
The guardian family gets what we consider the cream of the crop, as we only pick the puppies with the best qualities we are looking for in our future breeding program.
We care very much about all of our dogs, so it is important that we limit the number of adult dogs we keep in our care as it can become difficult to provide one-on-one care and interaction for a larger group. We are a small family-run operation and we do not want a "kennel" based program.
It enables families looking for a forever Golden Retriever to obtain a quality puppy at a lower upfront cost.
When the guardian dog is retired from breeding they simply continue life as they know it with their forever family instead of looking for a retirement family.
What are the costs of the Golden Retriever Guardian program?
A $500 deposit is required for our Guardian Home Dogs, regardless of gender, color, or size.
Upon completion of the dog's breeding career with us, we will transfer all registration paperwork into the Guardian's name at no extra cost.
A responsible Guardian Home family is expected to provide obedience training and routine veterinary care and wellness such as annual vaccines, high-quality food, grooming services, flea/tick prevention treatments and regular exercise and socialization opportunities, and lots of love and care.
Golden Crest Retrievers covers all medical costs related to the dog's breeding.
What are the requirements for being a guardian?
In order to be a Golden Retriever Guardian, the guardian home must meet the following minimum requirements:
Live within a reasonable driving distance from Florence CO.
Own their own home.
Have their own car to transport the dog.
Have prior dog ownership experience.
Must have a fenced-in yard.
Be willing to crate and house-train the puppy.
Provide obedience training and show proof of graduation.
Feed the puppy Purina Pro Plan dog food.
Keep current on all heartworm/flea/tick prevention, as well as regular vet checks, including vaccines.
Be available to drive the dog to and from our home for breeding and whelping or meet us somewhere in between, if you live farther away.
Keep us updated on the dog's progress via email.
How to apply for the Golden Retriever Guardian program.
To apply for the program, please fill out our Guardian Home Application form. If you are selected to participate in the program, we will contact you and provide further instructions.

We thank you for your interest in our Golden Retriever Guardian Program!